UPS ARMAC HOME 1500F LED 4 SCHUKO OUTLETS 230V
UPS ARMAC HOME 1500F LED 4 SCHUKO OUTLETS 230V
Armac 1500F Home UPS series is designed to perfectly meet the needs of home users of emergency power systems. Producer guaranteed accuracy and quality at stage of production. This translates into safe of UPS and solid work. The device provides complete protection and high performance while maintaining small size and affordable price. This enables to meet the needs of consumer market. Longer backup time Many users have various requirements when it comes to battery capacity and their power range. To answer those needs Armac has prepared two variants, each with different number of batteries, regardless of model or series. Standard models 650 VA – 850 VA Home and Office series are equipped with just 1 battery. Higher capacity models 1000 VA – 1500 VA have 2 batteries, which translates into noticeably longer backup times, starting from 26% up to 37% (depending on the connected loads and the power of UPS). With the introduction of additional, more powerful variants of UPSs featuring more batteries, you do not have to worry about short backup time. This gives you plenty enough time to finish listening to your favorite songs, continue important call (via landline) or even export / import important data to / from your CD/DVD/NAS. If you are a gaming enthusiast you can save your gameplay progress or continue it for a short while. Greater backup time, more freedom and convenience when using UPSs are within your arms reach - you just have to select more powerful uninterrupted power supply variant.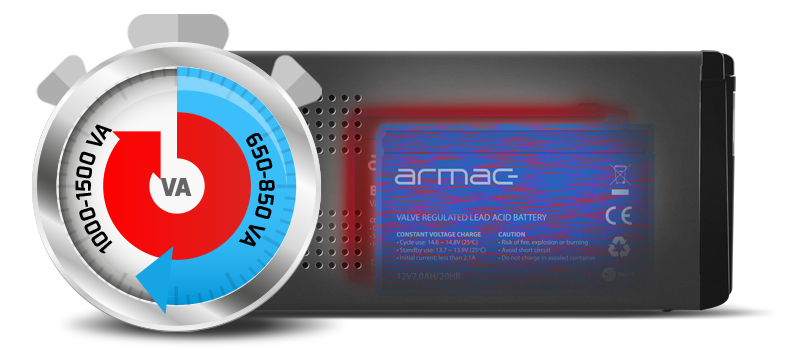 Automatic Voltage Regulator (AVR)

Armac offers improved UPS performance through the use of the Automatic Voltage Regulator. With AVR, the classic line-interactive power topology solution is enhanced by the introduction of an autotransformer that continuously adjusts the voltage transmitted to the devices connected with the UPS. *The manufacturer, with the best interest of the highest safety standards in mind, has implemented additional safety features to eliminate extreme voltage fluctuations. If any of them occur (< 145V or > 290V) - UPS will eventually switch to the battery mode, maintaining the entire power supply for the loads, while retaining the acceptable power parameters. This whole procedure is very convenient, highly-efficient and in the event of a continuous surplus or power supply shortage, the UPS has the ability to maintain the nominal output voltage, for a long time, without switching to battery mode, saving the time that should be strictly reserved for backup power.