MECHANICAL GAMING KEYBOARD GENESIS THOR 300 RGB BACKLIGHT BROWN SWITCH US LAYOUT SOFTWARE
MECHANICAL GAMING KEYBOARD GENESIS THOR 300 RGB BACKLIGHT BROWN SWITCH US LAYOUT SOFTWARE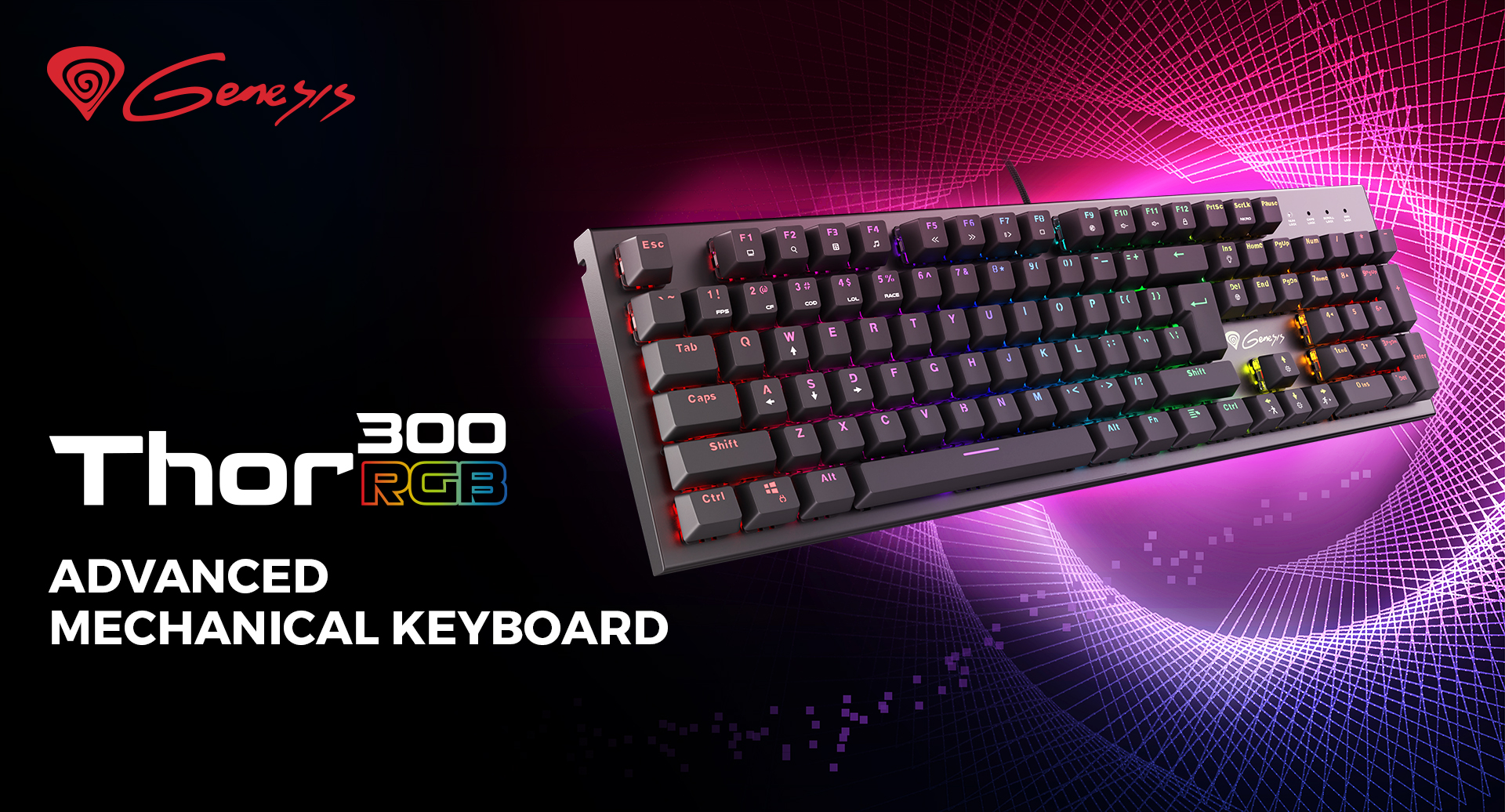 THE KEYBOARD THAT GIVES YOU AN
ADVANTAGE
Thor 300 expands your capabilities in virtual gaming. High quality mechanical switches with great specification ensure your best performance in your favourite game. Thanks to the various solutions such as the cable management combined with a great design and RGB backlight you receive the keyboard that not only releases your potential, but also satisfies even the most picky aesthete.

OUTEMU BROWN
MECHANICAL SWITCHES
The core of the Thor 300 RGB is high quality Outemu Brown switches that provide the best experience in demanding games. You only need 55 grams of pressure to activate the click, and this with a great response time of 8 ms provides you with a better performance in your game. The keys have an extraordinary lifespan of up to 50 million clicks, so the keyboard will serve you for many years.

Stunning
design
It impresses with a solid aluminium body, which has been complemented with the phenomenal RGB backlight available in 25 modes including the spectacular PRISMO. Thor 300 RGB reminds us that we are dealing not only with great specification, but also with an appetising design that appeals, encourages and motivates you to continue to struggle and improve your skills.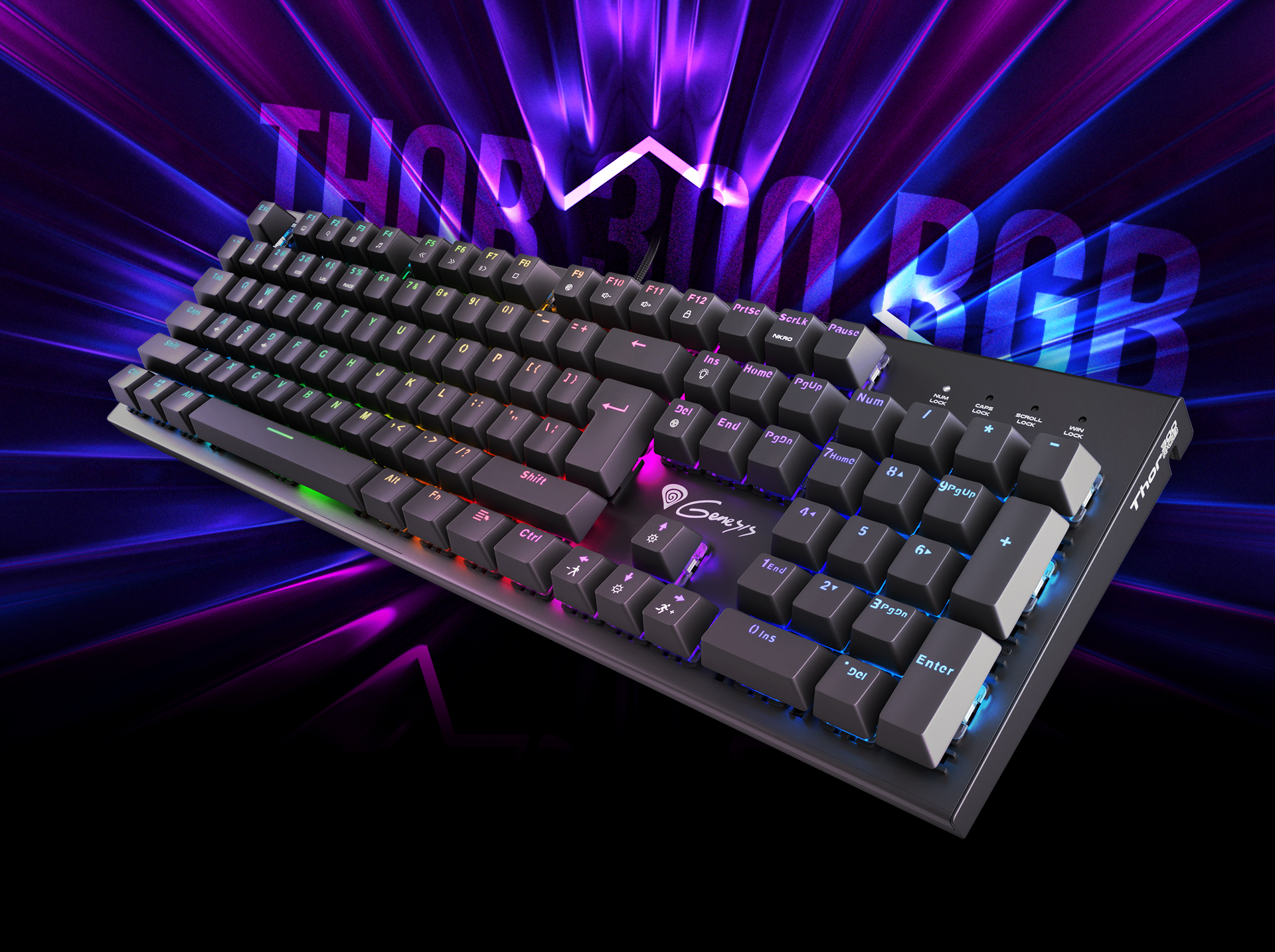 WINDOWS

KEY LOCK

At a high level of game every second matters and you can't miss any. Lock the Windows key comfortably and don't allow yourself a single error by minimizing the game. With Thor 300 RGB, you'll stay in the game as long as you decide.
We simplify life with

multimedia keys

With multimedia keys, the Thor 300 RGB improves the comfort of daily running on a computer. Thanks to the various options placed on the F1 - F12 keys, you have simple access to popular applications like calculator or mail. You also control multimedia comfortably – change easily the currently playing song and adjust the volume even while gaming.
N-KEY
Rollover
The N-KEY Rollover function allows to detect all keystrokes no matter how many keys are pressed simultaneously. The Thor 300 RGB does not limit you technically and gives the possibility to run advanced combos and various button combinations as you wish. The full Anti-ghosting is your advantage over your competitors.

Advanced

Software

Thor 300 RGB forms a spectacular set together with dedicated , advanced software. Using it, you will not only calibrate the backlight according to your preferences, but also set up profiles and macros. It allows you to take full control of your equipment the way you like it.
Durable

keycaps

The Thor 300 RGB was carefully crafted in every aspect. We took care of the smallest details and thanks to the use of the "Double Injection" technology, we have received buttons that are resistant to the abrasion of letters and signs. You can be confident that the keyboard will be readable, clear and aesthetically pleasing over the years of use.
RUBBER NON-SLIP

FEET

With the Thor 300 RGB you get the certainty of unwavering keyboard stability on the desk. Special anti-slip rubbers prevent accidental moves that could hinder you in the struggle with opponents. Enjoy the full control and maximum comfort of playing your favourite games.